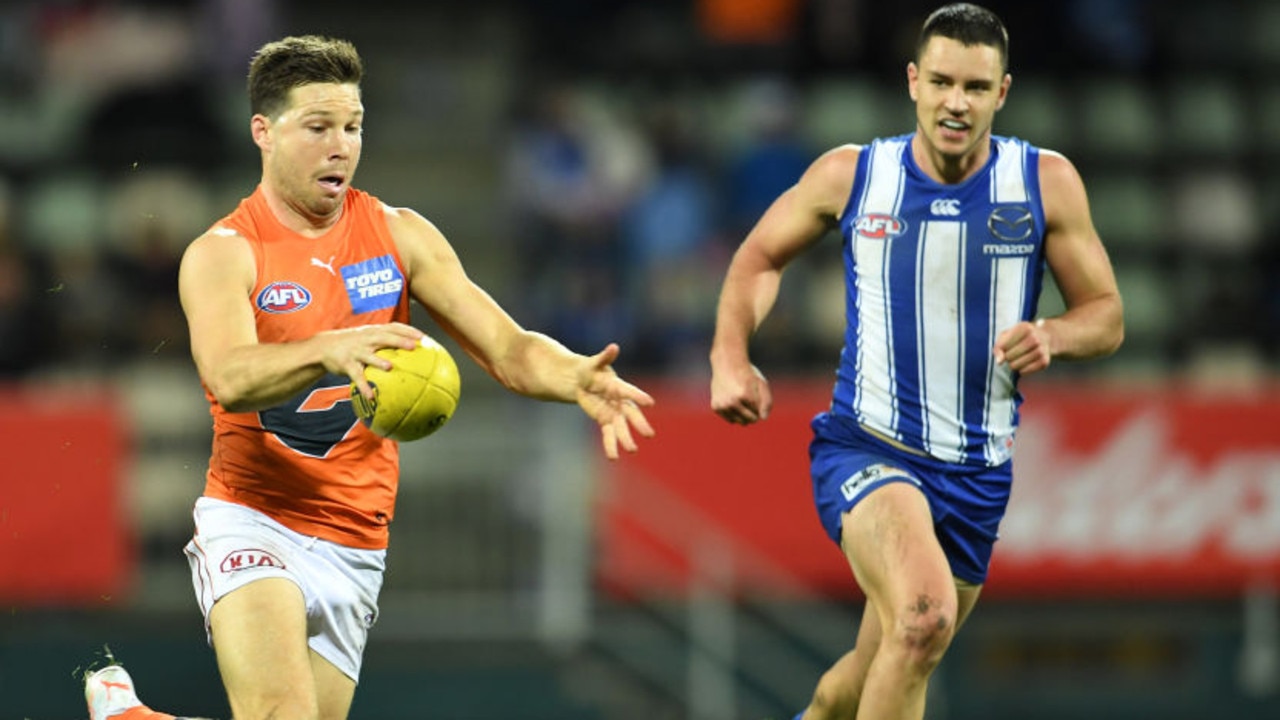 Live Updates, Stats, Video, Stream, Result, News, Blog
GWS picked up an impressive 49-point victory over North Melbourne at Marvel Stadium in interim manager Mark McVeigh's second victory.
The Giants blasted out of the gates to score the first five goals of the game before piling on five more in the second quarter to effectively put the contest out of reach at the main break.
He came behind a massive performance from Harry Himmelberg, registering a career-high 38 eliminations and 16 points, while Stephen Coniglio (34 touches, 3.2) and returning Lachie Whitfield (29 eliminations, 14 points) were also important to visitors.
Watch every AFL blockbuster game this weekend live and ad-free on Kayo. New to Kayo? Try 14 days free now >
Final scores read 15.12 (102) to 7.11 (53) as the Giants improved to 4-8 on the season to pass Hawthorn on the ladder in 13th place.
Meanwhile, the Roos have suffered their 11th consecutive defeat as the club's struggles in 2022 continue.
MATCH REPORT

There were no late changes on either side, with Charlie Lazzaro (North Melbourne) and Jake Stein (GWS) named as medical replacements.
Toby Greene was the first to hit the scoreboard in the opening minutes after Josh Kelly found him under 50, while James Peatling followed to make it two in a row for the visitors.
The Giants added two more goals after a thrilling play in midfield to draw praise from pundits Fox Footy.
"The left-footed assassins are just carving them down the middle at this point – Josh Kelly and young Jacob Wehr. That ball movement is absolutely superb," Brownlow medalist Gerard Healy said on Fox Footy.
"He's back," Healy said of the "Tsunami Orange" – a term coined about GWS years ago because of his thrilling ball-moving moment.
"They're looking like lasers with their kicks right now."
Harry Himmelberg was also busy in his new role in defence, racking up a pile of footballs.
One of their goals came after Kangaroos defender Josh Walker was tackled for holding the ball deep in the defensive 50 despite his arms being free, with Healy noting he would be "dirty" on play.
GWS took a 30-point first-break lead 5.3 (33) to 0.3 (3) as his thrilling lane play intimidated the Roos.
The Giants continued their strong play after Stephen Coniglio scored the first goal of the period, while Jake Riccardi netted his team's seventh major of the day, with the Fox Footy commentator noting the Roos were "under siege".
The only downside for the visitors was that Harry Perryman was knocked out of the game with a rib injury after a brutal collision in the second quarter, with Fox Footy's Eddie Betts revealing he was sent to hospital to determine the extent of the injuries. damage.
The Roos scored their first goal of the game 10 minutes into the second quarter through Curtis Taylor.
But Riccardi responded at the other end with his game-high third goal after guiding a saved shot from a tight angle to continue hurting North.
Saints legend Nick Dal Santo praised the freedom with which GWS played, pointing out how Lachie Whitfield landed kicks from his unfavorite side.
"It's fun football…it's the style of play that puts the fear of God in the opposition, it's hard to defend," he said.
The Giants took a 47-point halftime lead, 10.4 (64) to 2.5 (17).
Mark McVeigh's side came out with the same intensity in the second half, scoring the first goal of the quarter to extend their lead to 54 points.
A swingarm from Jason Horne-Francis to Josh Kelly could come under scrutiny by the MRO after it appeared to come into contact with the Giant star's face, with Fox Footy experts noting the Pick 1 appeared "frustrated".
"When Kelly grabs his chin, I think he (Horne-Francis) had a meeting with the MRO of some description," Healy said of the incident.
The Roos found some life midway through the third term, scoring back-to-back goals as home fans stormed into Marvel Stadium.
And in one of the game's highlights, North striker Curtis Taylor took a high-flying hold on the wing.
The Giants took a 50-point lead in three quarters, 12.9 (81) to 4.7 (31).
Much like the third term, the fourth was a much more even battle, including a scoring goal from Luke Davies-Uniacke after a Horne-Francis clearance.
Himmelberg continued his outstanding form with a long-range bomb from the 50m arc after Toby Greene threw a handball from a set piece as the Giants picked up a big win.
LE 3-2-1 (What we learned)
3. GIANT STARS CONTINUE TO SHINE IN NEW (AND OLD) ROLES
When Mark McVeigh took over coaching, he wasn't afraid to shake things up.
And it's fair to say that some of his positional changes are paying off, and then some, including Harry Himmelberg's move to defense and Stephen Coniglio's return to midfield.
Himmelberg had a career-best outing against the Roos with 37 takedowns, 16 points, 697 yards gained and a goal, consistently mopping up the Giants at halfback with a stunning 11 interceptions.
"He had a great game and that was a piece of the puzzle that changed a few weeks ago," Saints great Nick Dal Santo said on Fox Footy.
"He was drafted and played youth football as a defender, we know him as the key striker, we also know that life as a striker is sometimes very difficult – a lot depends on what happens on the pitch .
"But you see the way he reads the ball, his ability to get involved in the game and the other thing he's really good at that we don't see all the time is he's a good kick."
Himmelberg admitted after the match that some of McVeigh's changes had been refreshing for the group.
"'Spike' has been here a long time and he's a very respected person in our footy club and all the boys love him," he told Fox Footy.
"It's good to change the game plan, to change personnel, it's a new face in front of the boys, so it's been really good.
"I was actually quite excited (to step back). I had a quiet few weeks as a striker and thought it was a good challenge.
"I think if you take it with two and, it ends up benefiting you as a player."
Meanwhile, Coniglio was equally impressive in his usual role on the ball, racking up 34 touches, 14 contested and 3.2 – and if that could have been a mammoth performance had he kicked more straight.
Coniglio really set the tone for the Giants in the engine room early on in arguably his best game this season.
"I just want to highlight this man, he's had some bright times, he's had some tough times. But he's getting back in the wagon," Dal Santo said.
"I was really impressed with his balance. It's Stephen Coniglio back to his best, two-way street, getting involved in the channel. He's had a great game so far.
1. LEGEND'S MESSAGE FOR 'FRUSTRATED' HORNE-FRANCIS AS MRO EXAM PRESENTS
It was a tough day at the office for North's Pick 1 draft Jason Horne-Francis, though it's fair to say he wasn't alone among the locals.
Fox Footy pundits noted that Horne-Francis seemed "frustrated" throughout the contest as not much went right for the Roos in the lopsided affair.
It culminated when the 18-year-old caught Josh Kelly with a swing arm which left the Giants star grabbing his chin – an incident that is sure to be closely scrutinized by the MRO.
Fox Footy's Eddie Betts pointed to a play where Horne-Francis stopped running after a Kangaroos turnover, and implored the youngster's teammates to keep cheering him on.
"He's frustrated, he's shaking his head, all the opponents are running away from him," he said on Fox Footy three quarters of the time.
"He's not the only player for North Melborne, a lot of them look frustrated because it's not going their way.
"You just have to learn body language, keep a positive mindset and say, 'Come on, keep going, head up, let's keep going.'"
We then saw some of Horne-Francis' best in the fourth quarter after a thrilling clearance led to a Kangaroos role.
And as Brownlow medalist Gerard Healy pointed out, maintaining that intensity should be a priority for the young star.
"He played a bad game and he could well miss a few more games if the MRO interprets his swing arm the way I think he will," he said.
"But that's what he has to come back to, that's what he came here with, a great reputation, and that's what he's going to build his career on."
Horne-Francis' game sparked a lot of discussion on social media.
1. THE ORANGE TSUNAMI IS "BACK"
The Giants' thrilling ball movement was on full display against the Roos in the tones of years past when it was coined the 'orange tsunami'.
"It's back," Brownlow medalist Gerard Healy said of the Giants' Fox Footy offensive style.
It continues a trend over the past five weeks where the club was ranked No.1 for defensive transition through the inside lane of 50.
GWS burst out the gates with five goals in the first quarter after attacking the hallway as they piled up five more in the second term as the game was all but over at halftime.
It allowed returning Lachie Whitfield to play with a freedom we haven't seen in some time, racking up 29 eliminations and 14 points to regain some of his best form after an indifferent season thus far.
And the Giants are all the more deadly when Whitfield is on the move, while it also helps several other of his teammates get off the leash.
St Kilda great Nick Dal Santo thought it was a great reminder of how dangerous the Giants are in midair.
"I loved the speed of the game…we just wanted to see more energy (from GWS). You look at some of their particular ball users over the years thinking, "Why aren't they more aggressive and creative?" They have a skill set that few other clubs have in this competition, it's ball in hand," he said on Fox Footy.
"They showed why they can be a very good team."
Relive North Melbourne vs. GWS in our live blog below!
If you don't see the blog, press here.