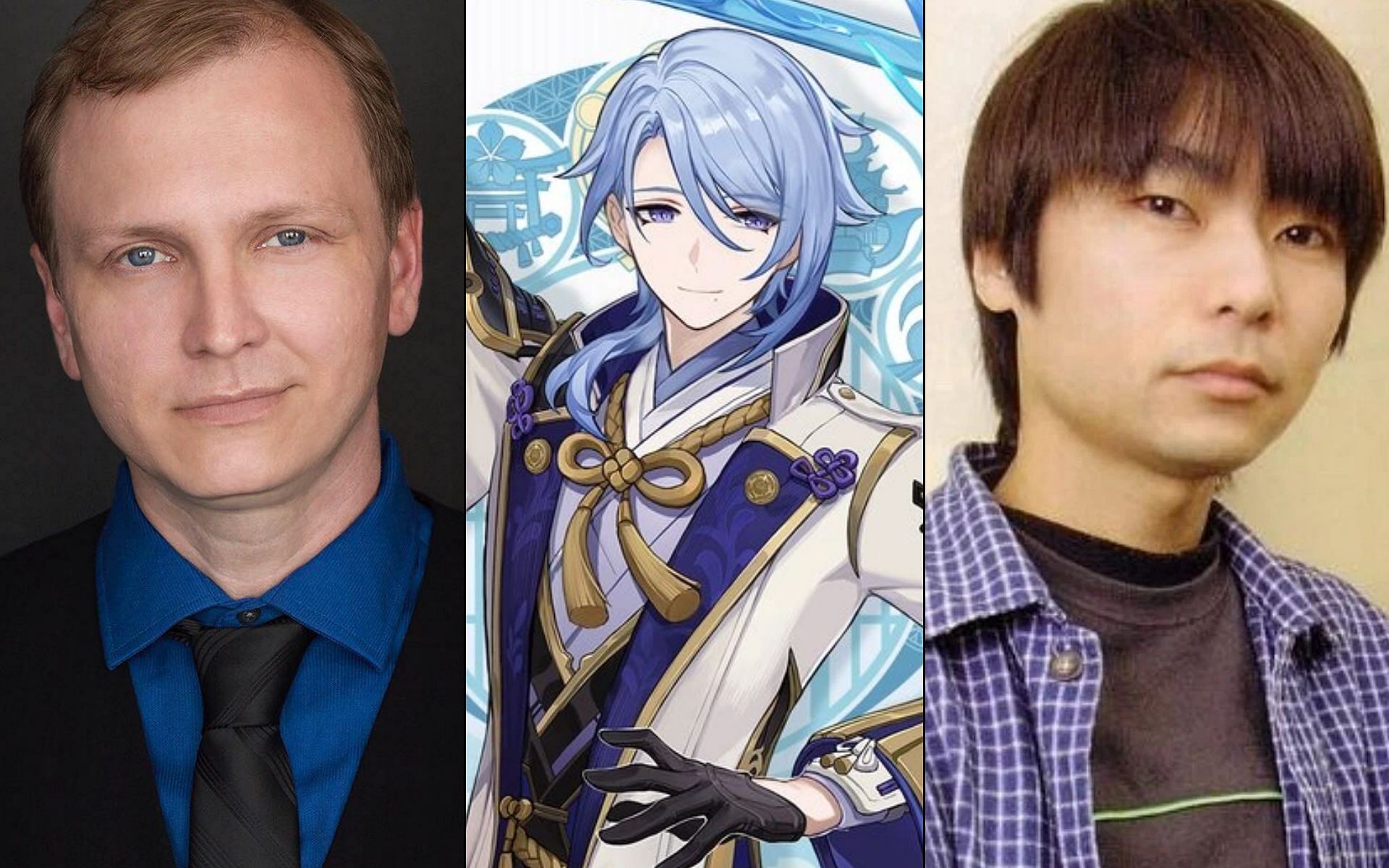 Genshin Impact Reveals Kamisato Ayato's English and Japanese Voice Actors
The recent Genshin Impact 2.6 livestream revealed Kamisato Ayato's English and Japanese voice actors. His English is Chris Hackney, while his Japanese voice actor is Akira Ishida. We already knew that Akira Ashida did her Japanese voice, but Chris Hackney's revelation is new.
Some fans suspected that Chris Hackney voiced this during his first conversation, but miHoYo only recently confirmed that was the case. This article will cover some of the roles of these voice actors as well as basic information about Kamisato Ayato.
Travelers might also want to know who voices it in the Chinese and Korean versions of the game:
Chinese: Zhaolu
Korean: Jang Min Hyeok
---
Kamisato Ayato's English and Japanese voice actors in Genshin Impact revealed
Kamisato Ayato's English and Japanese voice actors were revealed around minute 7:19 of the Genshin Impact 2.6 livestream. This part of the special program featured an image similar to the one shown in the tweet above. For some players, having the right voice actor can make a huge difference in whether or not they want to shoot for that character.
Kamisato Ayato Banner in Genshin Impact 2.6 will launch on March 30, 2022. If the reader doesn't recognize Chris Hackney or Akira Ishida yet, they should check out some of their roles. For the convenience of readers, a brief summary is provided below.
---
Chris Hackney
Chris Hackney has voiced characters since 2000, including some notable roles (all in English):
Dimitri Alexander Blaiddyd (Fire Emblem: Three Houses)
Illumi Zoldyck (Hunter x Hunter)
Khun Aguero Agnes (Tower of God)
Makoto Teruhashi (The Disastrous Life of Saiki K: Awakened)
Son Gohan (Dragon Ball Super)
Stinger (One-Punch Man)
Boey (Fire Emblem Echoes: Shadows of Valentia)
Hackney will now add Kamisato Ayato to his spectacular character portfolio.
---
Akira Ishida
Akira Ishida has had over 400 roles (some of which are the same multiple character across different media). Here are some of his most notable roles (all of which are in Japanese):
Gaara (Naruto)
Kotaro Katsura (Gintama)
Zeref (Fairy Tail)
Cavendish (One Piece)
Makoto (Person 3)
Eishi Tsukasa (food wars)
Doppio (JoJo's Bizarre Adventure)
Edo Phoenix (Yu-Gi-Oh! GX)
Snails (My Little Pony)
Akira Ishida will now also add Genshin Impact's Kamisato Ayato to his impressive lineup of roles.
---
How to change language in Genshin Impact
Here's a simple step-by-step guide for travelers who want to change their in-game language from English to Japanese (or Chinese or Korean) and vice versa:
Pause the game to bring up the Paimon menu.
Go to Settings (it's on the left side and looks like a gear icon).
Go to Language.
Travelers can change the in-game language and voiceover language.
Travelers can also get rid of voiceover languages ​​they don't plan to use to save storage space. At the bottom right of this screen is a button "Manage voiceover files" and players must click on it to select the language they wish to uninstall.
---
Struggling to beat your favorite game? follow us on Twitter for easy guides, news and updates!
LIVE SURVEY
Q. What language do you listen to in Genshin Impact? English or Japanese?
1 voice so far