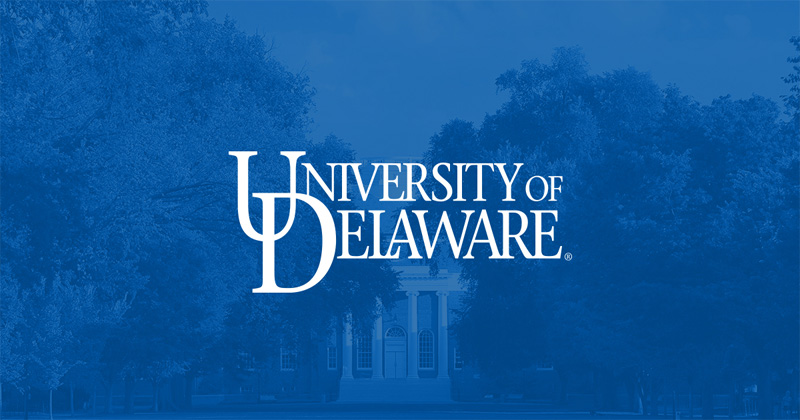 For the record, April 29, 2022
For the Record provides information about recent professional activities and honors for University of Delaware faculty, staff, students, and alumni.
Recent activities, publications, presentations and awards include:
New assignment
Matt Drexler, formerly Associate Director for International Student Engagement and Acting Associate Director for Study Abroad, has been appointed Associate Director for Study Abroad at the Center for Global Programs and Services (CGPS). Drexler began his new role on April 18, 2022, after serving in the acting position for more than a year. He will lead and oversee UD's study abroad and domestic travel programs and work closely with the Academic and Student Support Units on campus to support the University's internationalization goals. . Drexler, who was chosen from a strong national pool of applicants, has distinguished himself with a career that included myriad aspects of international education and engagement both at UD and in organizations such as Citizens Diplomacy International and Independence Charter School in Philadelphia. Drexler joined UD in July 2012 as the study abroad program coordinator and plans to complete his Ed.D. in Educational Leadership from UD in 2023.
Works
A poem by Marguerite StetzMae and Robert Carter Professor of Women's Studies and Professor of Humanities, which was originally published in SEA (Mom Egg Review: Literature and Art) in January 2022, has now also appeared in the April 2022 issue (No. 38) of the Bulletin of the Whistler Society. The Whistler Society, an international scientific organization based in the UK, is dedicated to the study and celebration of the work of American-born painter James McNeill Whistler. Stetz's poem, "Whistler's Mother", reconsiders Whistler's iconic portrait from the sitter's perspective.
Rachel Hutchinsonprofessor of Japanese studies and acting director of the Game Studies program, has a new book, Japanese role-playing games: gender, representation and liminality in the JRPG, co-edited with Jérémie Pelletier-Gagnon and just published by Lexington Books. Contributors from Japan, Europe, North America and Australia use a variety of theoretical approaches to analyze popular game series and individual titles, introducing an English-speaking audience to researching Japanese video games while extending postcolonial and philosophical readings to Japanese game text. In a three-pronged approach, the collection uses these analyzes to examine gender, representation, and liminality, addressing a host of concepts including stereotyping, intersectionality, and the political and social effects of JRPGs on players and characters. industry conventions.
Bryan A. VanGronigenassistant professor in the School of Education, published "State ESSA Plans and Comprehensive Support and Improvement (CSI) Status" with co-authors Coby V. Meyers of the University of Virginia and W. Christopher Brandt of the National Center for the Improvement educational assessment in the journal Educational policy. In the article, VanGronigen and his co-authors analyze the Every Student Succeeds State (ESSA) plans to systematically determine how states identified Comprehensive Support and Enhancement (CSI) schools and the criteria they set. for these schools to leave CSI status. ESSA provides states with greater flexibility in how they identify, rank, label, and support low-performing schools.
Presentations
Rebecca DavisMiller Family Early Career Professor of History and Associate Professor of Women's and Gender Studies, was interviewed April 28, 2022 on "The Morning Beat with AJ and Mikalah" on Channel Q about "heterophobia".
Following their official lectures on Aubrey Beardsley on March 30, 2022, at the Rosenbach Museum and Library in Philadelphia, Marguerite Stetz and Mark SamuelsLasner were invited to give informal presentations on Beardsley and the Decadent movement of the 1890s for Rosenbach's "Decadent Bibliococktails" evening on April 22, 2022. Stetz, who is the Mae and Robert Carter Professor of Women's Studies and Professor of Humanities, presented the links between alcohol and decadents (including the startling discussion of champagne amid the court drama of Oscar Wilde's 1895 trials) and concluded with a reading of his new poem, written for the occasion , titled "Drinking with Decadents". Samuels Lasner, senior fellow at the University of Delaware Library, Museums, and Press, recounted how, while researching for a 1994 exhibit with Stetz for Harvard University's Houghton Library, he located an important drawing by Aubrey Beardsley of Henry Harland, editor of the yellow book magazine, lost to scholars for nearly 100 years.
Rachel Hutchinsonprofessor of Japanese studies and acting director of the Game Studies program, presented an invited talk at Cornell University titled "Japanese Videogames as Cultural Artifacts" on April 18, 2022.
More than 65 faculty, staff, and graduate students from the College of Education and Human Development and the College of Arts and Sciences presented research at this year's annual meeting of the American Educational Research Association (AERA), one of the nation's largest educational research organizations, April 21-26, 2022, in San Diego, CA. UD participants presented on a range of topics including early childhood education, using evidence and data in schools, increasing diversity, equity and inclusion in STEM education, innovations in reading, writing, and math, teaching and professional development during the COVID-19 pandemic, school and district policies, and social justice pedagogy.
Honors
Kisha Porcherassistant teacher of English, and Cresian Hughes, Assistant Professor of Sociology and Social Justice, have been nominated by the UD Anti-Racism Initiative (UDARI) as 2022 UDARI Faculty Summer Fellows. Porcher's qualitative research study will address ways in which centering Blackness in English Education in theory (Black theorists and ways of knowing) and in practice (Black community teaching and best practices) disrupts anti-blackness in English education curricula. Hughes' project explores whether an underexplored measure of criminal justice punitiveness – capital punishment – might be associated with disparities in school discipline for black and brown students, and asks whether such a relationship exists, in what circumstances it would occur and for whom the relationship would be most salient.
Lauren Bailes, an assistant professor in the School of Education, received the 2022 Emerging Scholar Award from the American Association of Educational Research (AERA) Special Interest Group on Educational Change. This award recognizes individuals who have demonstrated a strong record of original and significant scholarship related to educational change during the first eight years of their postdoctoral career as an educational researcher. Bailes specializes in instructional leadership and her scholarship focuses on the ways in which organizational, sociocognitive, and leadership theories come together to promote the success of K-12 school leaders and students. She officially received the award at the AERA Annual Meeting on April 25, 2022 in San Diego, California.
Sarah Mitchell, graduate student from the physical therapy program, was awarded the Allie Rose Zambito Sunshine Scholarship in recognition of her dedication to overcoming obstacles during her studies. The Allie Rose Zambito Sunshine Scholarship Inc. was established to honor the memory of Allie Rose by establishing and administering an annual scholarship to a sophomore graduate student enrolled in a Doctor of Physical Therapy program at the University of Delaware or at High Point University. Ellen Wruble, associate professor and director of the doctoral program in physical therapy, offered the scholarship opportunity to Mitchell. The award recognizes Mitchell's perseverance in overcoming difficult challenges as well as achieving goals to motivate others to lead active and healthy lifestyles. The scholarship provides $1,500 for Mitchell's future tuition expenses.
Tacha Rose, 2002 alumnus of the School of Nursing and head of patient services at UNC Health, received the 2022 Circle of Excellence Award from the American Association of Critical Care Nurses (AACN). The award recognizes nurses who have demonstrated measurable nursing outcomes, contributed to efforts to break down barriers to delivering quality patient care, supported healthy work environments, and had a significant impact on individuals through their leadership. . Rose chairs the Employee Recognition Committee and teaches leaders to develop enhancements for recognition through personalization to meet the needs of a diverse population. She also mentors other nurse managers and continues to recruit influential nursing candidates throughout the COVID-19 pandemic shortage. Rose credits UD's Each One Reach One Mentorship Program for providing her first mentoring experience with Nicole Stallings, former nursing student and president of the Black Student Nurses Association. The award will be celebrated at an upcoming National Institute of Education conference in Houston, Texas, May 16-18. The event, "AACN's premier conference on progressive and critical care nursing," consists of nearly 200 educational sessions, a critical care exhibit and recognition for celebrations, including Circle of Excellence award winners . The award offers a $1,000 honorarium, recognition on the AACN website, and a Circle of Excellence plaque.
Elisabeth Soslauassociate professor in the School of Education and undergraduate student in elementary teacher education Catherine Reim received the Outstanding Conference Paper Award from the Special Interest Group on Service-Learning and Experiential Education of the American Educational Research Association (AERA) for their conference paper entitled "Powerful Student Thinking during Critical Service-Learning ". Soslau and Reim have also been invited to serve as special guests on the special interest group's podcast, Experiential Commons, to showcase their research.
To submit information for inclusion in For the Record, email [email protected] and include "For the Record" in the subject line.